Travel on Tuesdays! -> Hogwarts Express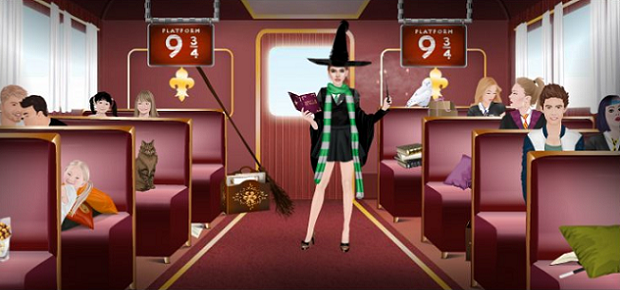 Hey Dolls,
The Travel on Tuesdays contest has arrived again! ;)
Check out the place selected for this week, run to your Suite, decorate it as if you were in that place and send us your photo. ONLY THE TOP 3 will win FREE STARDOLLARS!
THE SPOT OF THE WEEK!
Imagine an owl delivers a letter when you turn 11. Pack your bags--you're heading to Hogwarts! Magic and mystery awaits, but first you must go to Platform 9 ¾ and board the Hogwarts Express--the iconic train every young witch or wizard takes! Perhaps you'll see the Trolley Witch with her candies and treats, or meet your very best friends to go on adventures with! Anything can happen on the Hogwarts Express--so watch out for Dementors!
TOP-SECRET ADVICE! -> This train leaves London and goes through forests and magical towns like Hogsmede. Be sure any outdoors displayed reflects the magical world author J.K. Rowling created!
RULES
- Decorate your Suite as if you were on the Hogwarts Express or Platform 9 ¾ as it arrives
- Dress your Doll for the moment they're being whisked away to Hogwarts School of Witchcraft and Wizardry
- Take a picture and submit it here.
Hurry up! This contest ends on July 9!
PS:
You can take inspiration from cercev; she is the perfect magical globetrotter!