Be the Stardoll Carnival PARTY ANIMAL 2018!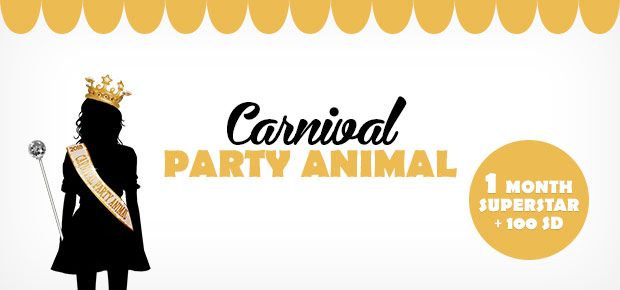 We can see that you are having fun with us this Carnival!

Are you creating parties and gathering your friends? Getting ready to dance and celebrate the biggest party in the world? Very cool!

Want to make this party last even longer? How about a free month of Superstar membership?
If you are the best party host or hostess your friends will vote for you!

If you want to be the one who will represent Stardoll Carnival 2018 as the PARTY ANIMAL, this is your chance!

Remember, this is the first round of the competition!

Here is what you have to do:

• Join or create the Carnival Party.
• The whole point is to gather the crew for the picture of the year! Take a picture of your PARTY in full swing!
• Submit your photo to this contest page by February 6.

After you submit your PHOTO here, be prepared to be selected!The second part of the competition will take place soon after this first round! We will pick 3 contestants from this first round to be the finalists for CARNIVAL PARTY ANIMAL! Everyone will be able to vote for their favorite Doll! Yeaaah! More information, soon!

The PARTY ANIMAL will get 1 MONTH SUPERSTAR MEMBERSHIP to keep the party going! Plus, special items that will show her or his ability to reign in the most spectacular party of the year!

We want to see colors, style and happiness. It's Carnival! Let's gooo!

Good Luck, Party People!
Take me back to the page
Hey Dolls!