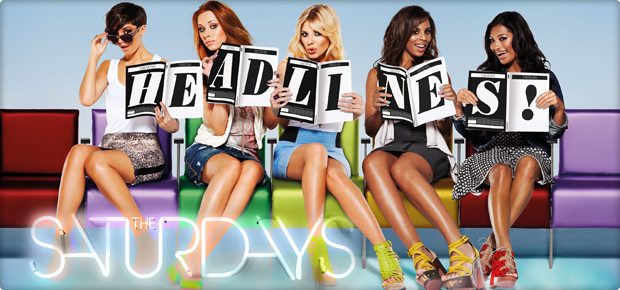 The Saturdays
The Saturdays
are Una Healy, Mollie King, Frankie Sandford, Vanessa White and Rochelle Wiseman and they are here on Stardoll.  Check out the dolls and put together some fabulous outfits!
Join the Fan Club
and get a fantastic Saturday's poster delivered directly to your Suite!!
New contests every week with giveaways from one of the girl's album cover outfits!
It's going to be an awesome August and a very Saturdays September (and right on into October) for all you fans --...don't forget to check out the
new single
and
album HEADLINES
! Hi Fan Club Members!
Each week for the next 4 weeks, each of us will run a contest for you to win a virtual gift!
We started with a dress up contest with a prize from Vanessa, then Una had a London Scenery Contest with her own special fashion giveaway, followed by Rochelle's clever Quiz and Frankie's Tour Styling challenge
This week be sure to go to the contest page for my
Saturday themed Suite Contest (Click here)
and receive a berry beautiful gift from me. Make sure you put together some super Saturdays Suites -- we'll be logging on this week to have a look at what you've all been getting up to.
You can also dress up our dolls right here on The Saturdays Promo Page! Lots of Love!
Mollie from The Saturdays ...
Stardoll Magazine
Flash Player 9 or higher required
To be able to view the Stardoll Magazine, you have to have Flash Player 9 or higher installed.
Please go to:
Macromedia Flash Player (Adobe)
.
Become Superstar